Here's an example..
I was living in Austin where rockaholixism
is an addiction slackers admit to, if not pride themselves on it. And this musician guy moves in across the street and lives without electricity for about 3 months! So I finally go over and ask him, "Hey, what's up with the no electricity thing?"

With out hesitation he tells me,
"I'm buying a drumset!"
I think for a minute and say...
"I thought I heard you were a keyboard player?" And he nods but before he can go on.. I get it –
"Oh, it's so the band can rehearse
at your house.."
"Totally!" he answers.
Yep, totally Rockaholix!

If this sounds like you or someone you know please go immediately to: R U a Rockaholix?

Here's my story..
Well after being in tons of rock bands -
my rock finally hit bottom - when I looked in the mirror and I saw just how high...
my hair had actually gotten.
I mean it was the 80's -
but is that really an excuse?
I don't know what kinda excuse there is for the 80's... but that's when
I first had to ask myself...
How did I get here?

I mean, I started out innocent enough - singing in the shower...
(We all do that right?)
running around in my skivvies with a hair brush mic & air guitar...
(We all do that too... thanks to Tom Cruise in the film Risky Business.)
There I was, suddenly at a red light beating on the steering wheel like a drum, while wailing at the top of my lungs to a rock song blasting from the car stereo with my fist in the air in the rockin' horns position
(Beevis & Butthead style) moving it to the beat... (Ok maybe we don't all do that... but apparently that wasn't enough to show me I was a rockaholix...yet.)

The next thing ya know I'm urban camping in my van in LA with:
"Do or die gotta get a record deal!"
"Do or die gotta get a record deal!"
jammin' like a non-stop loop in my brain. And I'm handing out demos to anyone who says they're in the biz or that they know someone, who knows someone, who's sister's second removed cousin's friend...
you get my point.

That's when I knew I had to get help...
but guess what?
There wasn't any.
Nope.

So that's why I started R.A.!

And after "white knuckling" it for a while and (for my kid's sake) playing acoustic folk in cafes. I found that it only made me even harder to deal with and my life even more "unmanageable".
(Partcially due to the fact
that I didn't have... a manager -
we'll save that one for the movie!)

Then, I began to see that Rockaholixism is not like Alcoholism - where you have to give up the booze like... forever. No, it's more like O.A. - I mean overeaters still needs to eat and Rockaholix still need to ROCK & as soon as you ROCK 4 PEACE...
ROCK 4 YOUR HIGHER POWER - GOD AS YOU UNDERSTAND SOUCE... OUR CREATOR.

THAT'S WHEN I FOUND MY INNER ROCKSTAR AND WELL MY HUSBAND TOO - WHO HELPED ME TO SEE IT IN MYSELF. HE HAD JUST PRODUCED HIS OWN ALBUM OF MUSIC PLAYING ALL THE INSTRUMENTS & IT WAS AWESOME! THROUGH HIS EXAMPLE I BEGAN TO UNDERSTAND THAT THE ROCKAHOLIX PART WAS NOT THE MUSIC...
IT WAS THE MUSIC BUISNESS & WHAT IT DOES TO SENSITIVE CREATIVE ARTISTS TYPES -
I HAVE SEEN BOTH GETTING &
NOT GETTING SUCCESS HURT
MANY IN THE MUSIC BIZ.

The CREED of ROCKAHOIX: LEARN THE TOOLS TO PRODUCE YOURSELF & FRIENDS.
Value creative freedom & free speech.


AND INSTEAD OF "WAITING TO BE DISCOVERED"
BEING INSPRIED TO KEEP LEARNING MOREPRODUCTION SKILLS
FOR MUSIC, VIDEO, & WEB SITES &
CD DISTROCUTION & PUBLISHING.

FINDING & FEEDING YOUR INNER ROCKSTAR
I BEGAN DISCOVERING A LOVE OF MUSIC THROUGH FREE FORM JAMMING
(Our Band SPIRAL is a Jamband.)
& LIVING AS A FREE SPIRT... an ARTIST.

I AM CO-CREATIVE WITH THE UNIVERSE INSTEAD OF PRAYING SOMEONE MIGHT DISCOVER ME ONE DAY. THIS IS FINDING ONES INNER ROCKSTAR.

AND IF YOU HAVE FOUND OR ARE FINDING
YOUR INNER ROCK STAR THEN

in the wise words of Jimi himself we ask you...
Are you experienced?
Would you like to be experienced?

Contact us

and you just might be chosen to be featured in
The Rockaholix Movie Project.


CURRENTLY THERE ARE PRE-PRODUCTIONS &
A
UDITIONING IN:
SANTA CRUZ, SAN FRANCISCO,
BOSTON, & AUSTIN.

HERE'S AN EXAMPLE OF HOW
TO START PRACTICING
"Safe Rock":

You're at a rock concert where the music is so loud that you feel it pounding up through the floor boards into every fiber of your being and you're diggin' it but
whoops - you forgot your ear plugs!

So what do you do?

You go up to someone -
ask them for a cigarette
but before they can light it -
you go up to someone else
and ask them for one.
Then ya rip off the filters –
stick 'em in your ears
and who knows...
you may even get a nicotine
buzz - and you just might
save your ears!.

SAVING EARS
IS TOTALLY COOL!

This is just ONE of the many
helpful hints
that you'll find at this site!

For more:
7 Steps To Practicing
"Safe Rock"

"Miracle Rockstar Interventions"
where at synchronistic moments
in her life she happened
to just bump into rock legends:
Robert Plant, Lenny Kravitz,
Stevie Nicks, Jon Anderson
and many more...


For A World
Where Everyone
Together
ROCKS ON...


The Mother of Rockaholix
Rockin' Live!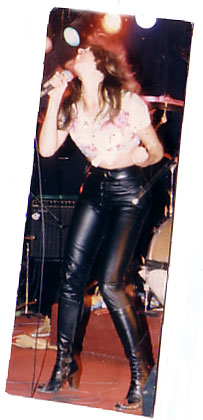 "Rock Doc Aliah" -
inspiring others to honor their
"Inner Rockstar & Rock 4 Peace!"


Aliah - now practices safe rock too..
(or in her case safe sax!)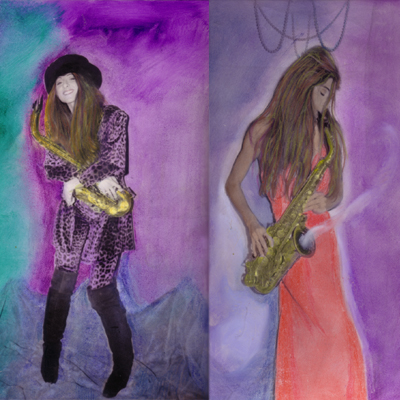 I wouldn't be a real rockaholix
if I didn't want to share my music...

Livin' In The Shade - Fridge Poetry - Starchild
(Aliah plays sax on "Fridge Poetry" & "Starchild"
These are her original Austinian Funk Rock tunes from her
time in Austin where everyone is somewhat Rockaholix!)

"Aliah... a female Lenny Kravitz with a sax!"
-Buddy Gills
Where Yat Music
New Orleans, LA

F.Y.I. Aliah's song "Livin' In The Shade" reached #1
on the Top 10 Rock Chart
(under the sub-division of Roots/RocknRoll)
at www.broadjam.com
To hear more of her original music go to:
www.broadjam.com/aliahselah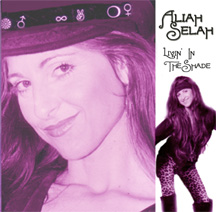 oop! no longer anonymous -
what can she say...
I'm a Rockaholix!
www.aliahselah.com


WE PRODUCED MANY TV SHOWS IN AUSTIN, TX.

NOW WE LIVE IN THE BAY AREA & OUR NEW TV/WEB SHOW-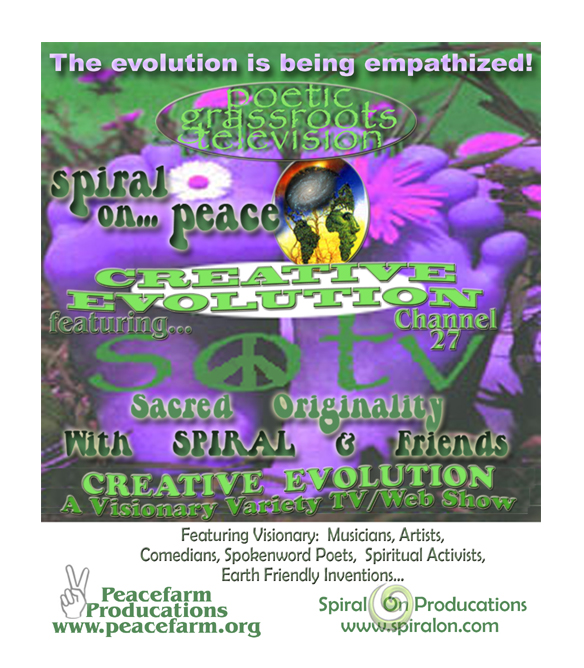 CREATIVE EVOLUTION
is a combination of all our Austin Acess TV Shows -
a mellower visuals versions of Trippin' In Austin
now blended together with our other TV Show
P.E.A.C.E.
(Planet Earth Alignment for Creative Evoution)
showcasing & honoring creative evolutionaries -
creative visionaries in mnay fields of life everywhere -
by gving out Creative Evolutionary Awards
& offering in-depth Interviews with the recipients.

And then like our show Multi-Media Cafe that lead to SOTV during SXSW offering music, poetry, art, and comedy activism skits.

You will see several skits on CREATIVE EVOLUTION &
the ROCKAHOLIX movie concepts
will be shown in the Rockaholix skits -
leading up to the feature film.

FILMING in each location will start
as we find out quirky lovable Rockaholix in:
SANTA CRUZ, SAN FRANCISCO, BOSTON, & AUSTIN.

LOOKING FOR ROCKAHOLIX WHO ARE
IN TOUCH WITH THEIR "INNER ROCKSTAR" & ROCKIN' 4 PEACE!
IS THAT YOU? WHAT DOES THAT MEAN?

A healthy rockaholix is in touch
with their "Inner Rockstar"
and is rockin 4 peace.

To be healthy in show biz... and yes, that is what music is... you have to have: strong inner guidance, with lots of integrity & self-discipline (especially health-wise) and a higher vision for your art that just "look at me". We could use some peace now in the world and I think that rock is that powerful and it is now listened to all around the world. I think we can rock the vote in the US and that it will effect the whole world. And that's what rockin' for peace is all about.
(In the Rockaholix film, of course it ends with world wide rock concert that rocks the world to peace to inspire that to happen.)
If you think you do another style than rock - know that ROCK is the word I use for pop... now and all music has some rock aspects in it - if it rocks that is - so all kinds of pop music have some rock and qualify as rock to me.
For more detailed advice and a few chuckles... go to SAFE ROCK page and be sure to read the RA 12 Steps... and let me know what you think...
most musicians who read it - love it.
I am overjoyed that you are going for MUSIC - what's in your heart to do.

The technical skills of production & promotion can be used in any business... so learn them.. and show your folks all the technology skills you are gaining... and they will see it is a good thing that you are doing for your future... with success in music or not. Those other skills may feed your mouth while the music feeds your soul. SO be sure to only do "back up careers" that also help with your vision of music too. So that you are continually growing the music vision and the skills you need to promote & sell it - if that is what you want to do. It is fine to just do it out of love too. No matter what keep expressing yourself and learning tools to create & promote what you seek to express. Music, Video, Web, and graphic productions skills... along with Internet Marketing... is the major you want in College. Unless you want to teach music - then be a music major. You can take music classes as a music minor. All this will help your music and you will have other "marketable skills" that you can use to live on - till the music makes money. Believe me, you can be very talented and never make much money from music. So if you are really serious... learn all about technology and use it all for your music too. There are tons of programmers who are musicians... and the secret of music... is to keep doing it. You get better and it feeds your soul... and the technology skills are there to help you make a living... between bands.